Therapeutic Boarding Schools
National Directory of Camps, Therapeutic boarding schools helping troubled teens with therapy, experiential learning, academics and behavioral modification.
---
Tipton Academy Therapeutic boarding schools
The calming influence of the dogs paired with the life lessons they provide, lead to an environment where teens are able to slow down their impulses and learn.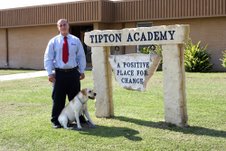 Location: North Central Kansas
Phone: 1-800-610-8810
Aaron Snyder
Admissions Director
---
Meadowlark Academy - All Girl Boarding School
Meadowlark Academy is an all girl boarding school that helps troubled and defiant teens. We address impulse control and behavior modification.
http://www.meadowlarkacademy.com
Location: Delphos, Kansas
1-800-610-8810

9/1/09
---
This is a Brand New Therapeutic Boarding Schools Directory; Advertising with us will give your services more exposure and help many children from being misdiagnosed with mental disorder's or drugged. For instructions on how to be listed above go to: Advertising
---